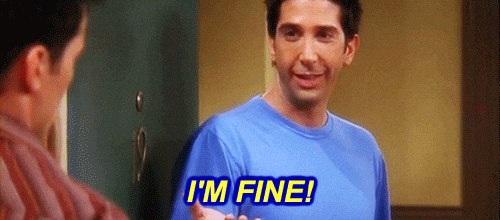 Me: I'm going to be the chillest bride ever!
COVID-19: Hold my beer.
As a former event planner, I assumed that I was prepared for anything wedding planning had to throw my way. Well…you know what they say when you assume.
After our destination wedding plans fell through in late February (that's a story for another day), we decided that with only eight months left to plan, having the wedding in Texas, where we live, would be significantly less stressful.
We were getting ready to take a two-week trip to New Zealand, and I did not want to spend our vacation worrying about the wedding. I posted in a wedding vendor group on Facebook, asking if anyone happened to have our date — 10/10/2020, the most in-demand date of the year — still open. I was pleasantly surprised to find that several venues did, but fell in love with The Carrington. The space itself is stunning and has so much character, Cari and Franci made me feel completely at ease with their expertise as planners, and the location was convenient for our guests, being just outside of Austin.
Within 72 hours, our wedding was back on, and we left for vacation feeling relieved and excited.
Five days after we got back, the country shut down. I thought, 'This will give me so much time to plan! Everything will blow over in a few weeks!'
*Facepalm*
Cue the series of ups and downs, highs and lows, WTF are we going to do's.
'Do we continue to book vendors, or do we pause?' 'What if we CAN have our wedding, but we can't do XYZ as planned?' 'Will it be safe for 90% of our guests to travel by October?'
These are still questions we ask each other, even after stating repeatedly that we're just going to take it one day at a time.
Having been in the wedding industry for years, seeing both sides has had a huge impact on our decisions. I've seen the heartbreak in watching friends postpone, but also surrounding the financial ramifications of cancellations and postponements from my vendor friends.
I've shared in the fear and anxiety of the decision to have our wedding, and the fear of my vendor friends in resuming weddings. On the flip side: The fear of not resuming weddings.
At the end of the day, we all need to take a breath, and remember that this is uncharted territory for everyone. We're ALL scared. Frustrated. Tired.
The decision is and will continue to be different for every couple. Personally, we have decided to continue moving forward with planning, knowing full-well that things could change due to state regulations. Is this scary? Yes. Will we be sad if it doesn't happen this year? Of course. But I've always been a glass-half-full kind of girl.
I keep telling myself that if we do have to postpone, at least our planning is done and we can relax for the next year.
Also, who's to say that we can't still have some sort of epic elopement this year, and celebrate with a vow-renewal and reception later on?
I also keep coming back to this: Yes, the wedding is important. But at the end of the day, you're having the wedding because you want to marry your person. And that, you will.
Just think of the pandemic as the ultimate pre-marital counseling. If y'all can get through this, you can get through ANYTHING.
For better, for worse.
-Lauren
https://www.thecarrington.net/wp-content/uploads/2018/01/clogo5-01.png
0
0
TheCarrington
https://www.thecarrington.net/wp-content/uploads/2018/01/clogo5-01.png
TheCarrington
2020-07-17 13:58:59
2020-07-17 14:32:04
Diaries of a COVID-19 Bride